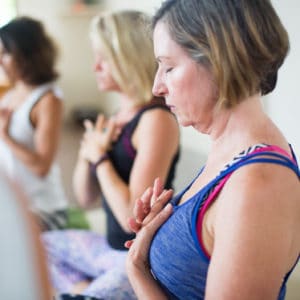 The 200hr Heart of Yoga Studies Course is an incredible journey of self discovery. You will have a unique opportunity to learn about the deeper aspects and possibilities of yoga and apply what you learn for your personal growth.
Is this course right for me?
Do you have some experience of yoga and wish to deepen your knowledge and understanding?
Are you keen to join a community of passionate yoga lovers?
Are you committed to your personal growth and development through yoga?
Do you want to develop a personalised home practice?
This course will teach you more about the practice, principles and philosophy of yoga, including yoga sutra studies, asana, pranayama and meditation, and give you a framework for applying your new knowledge in your daily life.
What will I gain?
This is a truly transformational experience where you will make new friends in a beautiful community of like-minded people. Not only will you gain a greater understanding of yoga, you will learn to understand and nurture yourself in a whole new way.
Students who complete this course will also have the foundations for further yoga studies and will gain recognition of prior learning for The Yoga Institute's diploma level teacher training program.

---
What style of yoga?
Our approach to Yoga is based on the world-renowned teachings from the tradition and lineage of T Krishnamacharya (widely known as the 'father of modern yoga') and his son TKV Desikachar (pictured).
We focus on integrating all aspects of yogic practice including asana, pranayama, meditation, mantra, mudras, philosophy and psychology, and adapting practices to the individual.
We emphasise applying the ancient wisdom and practices of yoga to the challenges of modern lives.
As Krishnamacharya said: "Yoga must be made to suit the individual, not the individual to suit the yoga."
---
What is covered in this course?
Module / Term 1
History of Yoga
Foundation Principles of yoga practice
Asana I – basic theory and techniques
Yoga Energetics (subtle energy systems)
Module / Term 2
Introduction to Yoga Sutras of Patanjali (yoga philosophy)
Pranayama – theory and techniques
Meditation
Plus:
Yoga Anatomy – completed online via yogaanatomy.net (optional)
2-day Retreat Experience
---
2017 Course Attendance Options
There are four options for The Heart of Yoga Studies course:
Friday course: 1 day per week. 8 weeks each term. Two terms over six months.
Immersion course: Each term is done as an 8-day module. Two x 8-day modules.
Weekend course: Each term is done as 4x 2-day module. 8x 2-day modules in total.
Combination: A combination of modes (Fridays or Immersion). Complete in six months.
Friday Course – commenced 10th February 2017
16 course training days at the Yoga Institute in Cammeray, Sydney.
Every Friday, during NSW school terms

6:30am to 3:30pm
Including morning yoga class of integrated yoga techniques

2 day optional retreat experience (with Intensive/Immersion & Weekend groups)
Immersion Course – commenced Saturday 1st April 2017
16 course training days at the Yoga Institute in Cammeray, Sydney.
Series of 2 x 8-day intensive modules

7:30am to 4:30pm (or some half days)
Including morning yoga class of integrated yoga techniques

2 day retreat experience (with Friday & Weekend groups)
Weekend Course –
commences Saturday 15th July 2017
16 course training days at the Yoga Institute in Cammeray, Sydney.
Series of 2 modules (8x 2-day weekends)

Saturday times: 9:00am – 5.30pm
Sunday times: 8:00am – 4:30pm
Including morning yoga class of integrated yoga techniques

2 day retreat (with Immersion & Friday groups)
---
Free Course Information Webinar
Join us for a complimentary information session with our Course Director, Michael de Manincor. 
We think this place is pretty special and our students agree. If you've been thinking about studying yoga, come and get a feel for what we do here and why students LOVE studying at The Yoga Institute.
Join us and see if The Yoga Institute is for you.
Date: Wednesday, 14th June, 2017
7:30pm – 8:15pm  Course Information Webinar with Course Director Michael de Manincor
Limited places available – book now:
---
What do our students say?
"Apart from the experience of the yoga course, it is great to experience the yoga community including other students and the TYI teachers. I hope those special connections will be maintained long into the future."  Paul
____________
"This is just the beginning, thank you for helping to open this new door…new chapter on how I can live my life"  Brooke
____________
"Thank you so much for your sharing of the teachings of yoga in this lineage. I have found my path and have found a great, sincere tour guide along the path, in you."  Scott
---
Ready to Enrol?
To pay your deposit and secure you place in the 2017 Heart of Yoga Studies Course:
---
Course also available in Regional New South Wales, Goulburn and Wagga Wagga:
---
More Information & Questions
Email teachertraining@yogainstitute.com.au with any questions about our Yoga courses in 2017 or call Kirstie Christensen on (02) 9929 2774.