What is Yoga therapy? Reflections from SYTAR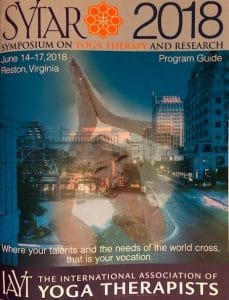 I attended the International Association of Yoga Therapists (IAYT) Symposium on Yoga Therapy
and Research (SYTAR), in Reston, Virginia, not far from Washington DC. SYTAR is probably the largest and most significant conference gathering on yoga therapy in the world, and brings together many dedicated people working in this emerging field. Most delegates are from the United States, and (despite the name being "International"), a few extras from other countries, like myself from Australia.
Throughout the whole event, I noted some FAQs on common themes that emerged. Surprisingly, the most prominent question and discussion was around "What is yoga therapy? and how is it different from yoga teaching?" The surprising bit is that although interest in yoga therapy is rapidly growing, seems like the profession is unclear about what it actually is.
Before getting into some definitions and practical applications, let's have a quick look at the modern history of how yoga therapy has emerged, and the role of the IAYT.
Although the system of yoga is essentially about embracing the human condition and personal transformation, the healing and therapeutic applications of yoga, known as yoga cikitsa, has been around for a very long time. Throughout history, yoga teachers (acharyas) would teach suitable yoga practices to assist people with health concerns, along with dietary, medicinal and other treatments from Ayurveda. Such healing applications were part of the process of restoring a sense of health and wholeness on the yoga path. This healing process may even be part of the personal transformation experience.
Yoga has become known in the West, and growing in popularity for more than 100 years. However, the actual concept and term "Yoga Therapy" has only been in common usage for about 30 years, probably originating in the US. Now, yoga therapy is becoming an emerging field in its own right, and in the attempt to become more recognised and accepted as a "therapy" in the modern world, is being distinguished from yoga teaching. However, attempts to adequately define or describe this distinction remain unclear.
In the late 1980s, several yoga teachers in the US, including Richard Miller and Larry Payne (both of whom have PhDs, and had studied yoga in India with TKV Desikachar), observed what was happening in the development of modern yoga in America. They realised that the way modern yoga was being taught with a primary focus on the physical postures, often in large group classes with standardised approaches or styles, was generally not suitable or appropriate for people with injuries or health concerns. It was also apparent that yoga teachers or yoga instructors often only had minimal or basic training, without the necessary knowledge and skills required to teach people with injuries or illnesses. Perhaps it was too difficult to convince people of the necessity for more training and education as yoga teachers, so they decided to initiate a new and distinct professional field, and started using the term "yoga therapy".
I am sure there were several reasons for this, but it seems that the central reason was the desire to be taken seriously by the medical and allied health professions as a recognised and accepted form of "therapy", and to be distinguished from what had become established as an industry of yoga instructors with minimal training requirements and lack of professional standards. They then incorporated a professional association for yoga teachers with suitable training, referring to themselves as "yoga therapists", and named the organisation the International Association of Yoga Therapists (IAYT). Whilst it seemed like a good idea at the time, there are many who look back and see that it may have been a mistake to distinguish yoga teaching from yoga therapy in this way. It is not well-known that Richard Miller wanted to name the Association as the International Association of Yoga Education (IAYE), and he confirmed this with me personally only a few days ago. However, that's history!
Having completed my own initial yoga therapy training in America in the mid-1990's, I attended the first SYTAR event in Los Angeles in 2007. I remember having conversations between sessions (as one does at conferences) with other delegates from Australia, and wondering how all this talk about yoga therapy was any different from good yoga teaching. One person's response was, and I quote "yoga therapy is a tsunami. Learn to surf or get out of the way." Whilst it may be a powerful movement, we are yet to see the aftermath that a tsunami may cause.
Back to the definition of yoga therapy. The IAYT has worked hard to provide a definition of yoga therapy, that distinguishes it from yoga teaching. This is the definition they have come up with so far:
"Yoga therapy is the process of empowering individuals to progress toward improved health and well-being through the application of the teachings and practices of yoga."
Whilst there is wide acceptance of this definition, it is worth asking whether or not it provides any useful distinction from yoga teaching. I believe that we could define yoga teaching in the same way:
"Yoga teaching is the process of empowering individuals to progress toward improved health and well-being through the application of the teachings and practices of yoga."
We could also add "personal transformation" to either or both definitions.
Many yoga therapists have their own definition, and numerous articles have been written about the differences between yoga teaching and yoga therapy, and between a yoga class and a yoga therapy session.
Whilst it is obvious that there are some practical differences, the distinction between the role of a well trained yoga teacher and a yoga therapist, may not be significant or meaningful.
Some describe yoga teaching as something that is done in group classes, whereas yoga therapy is done in one-on-one sessions. This is not a useful distinction. Yoga teaching can be done in either group classes, or one-on-one sessions, AND, yoga therapy can also be done in group classes or individual one-on-one sessions.
At The Yoga Institute, we not only aim to train yoga teachers and yoga therapists with the knowledge and skills required to be confident and competent when they graduate, our teacher training courses actually provide the necessary foundation for further studies in yoga therapy.
Two key components to consider in this discussion are 1) whether or not some kind of assessment is made of the student's needs, abilities, health concerns, and desired outcomes, and 2) whether or not the yoga practice or class is tailored, adapted, or designed based on that assessment, rather than standardised prescriptions or templates for whoever turns up.
I believe that both these components are essential to good yoga teaching, not just yoga therapy. Of course, this is not always the case in the way yoga is often offered in either classes or yoga therapy sessions.
Other distinctions or definitions suggest that yoga therapy is the modern melding of traditional yoga with modern medicine or other therapeutic or allied health approaches. This raises questions about whether it is really yoga. As one conference presenter put it: keeping the yoga in yoga therapy, rather than borrowing bits of yoga and adding them into other therapies.
Perhaps the distinction is not between yoga teaching and yoga therapy at all. Rather, the distinction seems to be more about the difference between what yoga teaching has become (with minimal training) and what it could (or ought to) be, with more training in its healing applications (now called yoga therapy).
Many of the issues being discussed at the conference were specific to the situation in America, but also had some relevance to other countries around the world, including Australia. It is all still very new and changing everywhere, including India.
As the profession continues to emerge and define itself, these questions and discussions will continue. Central and essential to all of this is the need for continued education and training of professionals in the field. Until then, many people will continue to gain great benefit from what is being offered (we hope!), regardless of what we call it.
Interested in Yoga Therapy Training? CLICK HERE to check out our 8 Day foundations module (2019 dates TBC)
Note: this is the first module of our 650 hour Yoga Therapy Training Course but can be attended as a standalone module.