The Importance of Holding Space
What is 'Holding Space'?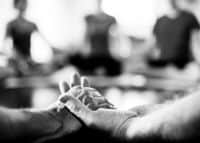 Most of us do this every day whether we realise it or not. With our family members, friends, students, colleagues and sometimes even strangers. It is both a simple and a complex undertaking. Simple, in that Holding Space for another essentially involves allowing them to say what they need to say, or be how they need to be.  It's complex, because for many of us, that's quite hard to do.
I became more aware of this term – Holding Space – in November last year when I had the good fortune to study with internationally recognised and highly regarded writer, speaker, facilitator and coach, Heather Plett when she came to Australia to lead some programs in Writing and Living with an Open Heart. She had created a definition for Holding Space in a blog piece published in 2015 (that went viral to three million people within a week of being posted!), which brilliantly encapsulated what the concept involves.
"It means that we are willing to walk alongside another person in whatever journey they're on without judging them, making them feel inadequate, trying to fix them, or trying to impact the outcome. When we hold space for other people, we open our hearts, offer unconditional support, and let go of judgment and control." Heather Plett
How to Hold Space
In my experience one of the biggest factors that allows me to Hold Space effectively for another, is being fully present.  And, as you might guess, what has allowed me to be more capable of being fully present in my regular, personal yoga practice that incorporates many wonderful yoga tools; especially chanting, pranayama and meditation. Intentionally and consciously choosing to Hold Space is also easier when I can be in my Witness Consciousness (Vijnanamaya kosha) practicing non-judgment and compassion for the other person. Connecting with my breath, slowing down, narrowing my focus of attention and connecting with my heart-centre also supports this endeavour.
Since I have become more aware of the concept and action of Holding Space I have realised how often I actually do it.  And I bet you will too. When I am teaching (both in classes and 1-1), when mentoring, offering yoga therapy or even when I pick my daughter up from school and we talk about her day, I am called upon to Hold Space. Being conscious of what I am doing has allowed me to develop my capability of how I do it.
As Heather eloquently closes her blog…
"Holding Space is not something we can master overnight, or that can be adequately addressed in a list of tips I've just given. It's a complex practice that evolves as we practice it, and is unique to each person and each situation."
So, just like yoga, I invite you to think of Holding Space as a practice. A life-long practice.  And if you do, it will allow you to serve and support others in both an open hearted and healing way.
Lucy is a senior teacher at Cammeray Yoga and is part of the faculty of The Yoga Institute. She has created and runs training in the communication and interpersonal skills for teaching yoga for classes and one-on-one, informed by her 25 years of experience training and consulting in face-to-face communication in the corporate world. She lived and worked in New York, USA for 17 years before returning to Sydney in 2011.
Lucy passionately believes in yoga as a system for healing and transformation of the body, mind and spirit. She has personally felt, as well as seen many times, the powerful healing that can be experienced from the simple act of sincerely being 'listened to'; she brings this and much other wisdom to her facilitation of the "Love and Listening Circle" and "The Heart of Yoga Program".