The Medical Chest: Spring Edition
A Supportive Spring Diet
Many people notice a natural, but distinct, shift in their cravings as winter gives way to spring. The arrival of the warmer weather often marks a decline in our desire for the heavy, substantive foods so essential during the winter months. In fact, many notice an increasingly insistent preference for lighter fare. Your appetite may decrease and you may find yourself craving fruit, fresh vegetables, and salads galore.
In the ayurvedic system of health every season has a dosha, or set of qualities, associated with it. Spring is governed by Kapha dosha.
What is Kapha Dosha?
The Kapha Dosha integrates the elements earth and water and represents the structure principle. As such it embraces our cells, tissues and organs and ensures their integrity by lubricating, moisturising and nourishing them.
With a seasonal diet and lifestyle that invites a little extra lightness, sharpness, dryness, and heat into our lives, we can support our physiology in its natural process of springtime renewal and revitalization.
Here is the Kapha Pacifying Diet for Spring:
Fruits
Vegetables
Artichokes
Asparagus
Beets
Bell Pepper
Bitter Melon
Broccoli
Brussel Sprouts
Cabbage
Carrots
Cauliflower
Celery
Chard
Chicory
Chiles
Cilantro
Corn
Dandelions
Endive
Fennel
Garlic
Ginger
Green Beans
Greens
Jicama
Kale
Leeks
Lettuce
Mushrooms
Onion
Parsley
Peas
Potatoes
Radishes
Seaweed
Spinach
Sprouts
Turnips
Watercress
Grain
Legumes
Adzuki
Fava
Qarbanzo
Kidneys
Lentils
Lima
Mung
Split Peas
Tofu
Oils
Sweetener
Honey
Maple Syrup
Molasses
Condiments
Nuts/Seeds
Filberts
Pine Nuts
Pumpkin
Sunflower
Dairy (min)
Ghee
Non Fat Dairy Milk
Yogurt
Meat/Fish
Chicken
Duck
Eggs
Freshwater Fish
Lamb
Ocean Fish
Turkey
Spices
Anise
Asafoetida
Basil
Bay
Black Pepper
Chamomlie
Caraway
Cardamom
Cayenne
Cinnamon
Clove
Coriander
Cumin
Dill
Fennel
Fenugreek
Garlic
Ginger
Horseradish
Marjoram
Mustard Seed
Nutmeg
Oregano
Peppermint
Poppy Seeds
Rosemary
Saffron
Sage
Spearmint
Thyme
Turmeric
Tarragon
Vanilla
Wintergreen
---
How Can We Support You?
The Yoga Institute holds monthly Ayurveda workshops ran by Eleni Tsikrikas. Each month Eleni will introduce a new food or lifestyle theme and give a short talk, followed by an interactive discussion. You will walk away with a foundational knowledge of each topic along with some practices that will enhance your life and health.
---
Meet your facilitator: Eleni Tsikrikas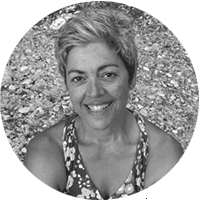 Eleni discovered YOGA as a means for reducing stress in 1995 while practicing law in Sydney, Australia. Smitten, Eleni completed the Sydney Yoga Centre's teacher training course. In 2000, Eleni quit the legal profession to teach Yoga full time. In 2004 Eleni moved to Los Angeles and began intensive study with Robert Birnberg a senior student in the T. Krichnamacharya lineage. The major focus of her studies is the "Yoga Sutras of Pantajali" the guidebook dedicated to creating a satvic mind.
Eleni is a Clinical Ayurvedic Specialist, CAS, a Pancha Karma Specialist PKS. She runs a private ayurvedic practice and teaches "Ayurvedic Skills for Living" courses in Silverlake and Sydney. She is a faculty member of The Yoga Institute in Sydney and at California College of Ayurveda, where she teaches and mentors students. She continues to pursue her passion for herbs, studying with renowned herbalist KP Khalsa. Eleni has completed the educational component leading to qualifications as a Western Herbalist. She is presently working on the accreditation process for the American Herbalist Guild.
Eleni passionately believes food is medicine and is looking forward to sharing her passion at The Yoga Institute with a monthly Ayuveda Workshop.