September's Ayurveda Workshop Talking Points
Missed last month's Ayurveda workshop? We have you covered! Here were the key subjects talked about:
What Is Ayurvedic Medicine?
– The principle is that it's energetic medicine
– How does the thing coming in, effect the person consuming and digesting it
Ayurveda is Seasonal
– Natured based system of medicine
– Diet and practices should be changed seasonally 
Ayurveda Places A Lot Of Emphasis On Dietary Modification To Treat Illnesses
– Over 70% of diseases are a result of faulty digestion
– Each one of us are responsible for our health
Ayurveda Suggests You'll Live 100 Reproductive Years In A Natural Way
– If we adopt certain principles then we should be able to age in a healthy way
– Ayurveda and yoga have us age in a way to continue to be vibrant and flexible
Ayurveda See A Direct Connection Between Food And Emotions
– If you're always eating hot spicy foods in a hot spicy climate, you're going to have hot spicy thoughts
– If you eat heavy dull food and food that's hard to digest, it's going to create sluggishness in the body and your emotional state
Ayurveda Has 3 Different Body Types (Doshas) With Different Seasons 
– Spring is Kapha Dosha season, eat a diet that's light and warm with pungent spices
– Winter is Vata Dosha season, eat hot heavy foods
– Summer is Pitta Dosha season, eat cooling small meals with cooling spice
If A Food Looks Like A Part Of The Body, It Heals That Part Of The Body
– Ex. blueberries look like blood cells and contain flavonoids that strengthen your arteries and veins
– Certain herbs are associated with certain parts of the body as well
Ayurvedic 3 Phased Cleansings In Clinics
– Preparation: eat special simple diet
– Clean out the body: therapeutic vomiting, purging, oil enemas, blood leading, or nasya oil
– Rebuilding: messages or agar oil
Ayurvedic Cleansing Through Diet and Lifestyle
– Dietary changes are giving your body a break by eating less 
– Lifestyle medicine is preventative
Don't miss out again.
---
Meet your facilitator: Eleni Tsikrikas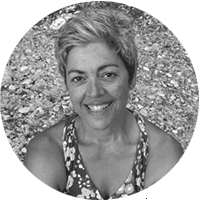 Eleni discovered YOGA as a means for reducing stress in 1995 while practicing law in Sydney, Australia. Smitten, Eleni completed the Sydney Yoga Centre's teacher training course. In 2000, Eleni quit the legal profession to teach Yoga full time. In 2004 Eleni moved to Los Angeles and began intensive study with Robert Birnberg a senior student in the T. Krichnamacharya lineage. The major focus of her studies is the "Yoga Sutras of Pantajali" the guidebook dedicated to creating a satvic mind.
Eleni is a Clinical Ayurvedic Specialist, CAS, a Pancha Karma Specialist PKS. She runs a private ayurvedic practice and teaches "Ayurvedic Skills for Living" courses in Silverlake and Sydney. She is a faculty member of The Yoga Institute in Sydney and at California College of Ayurveda, where she teaches and mentors students. She continues to pursue her passion for herbs, studying with renowned herbalist KP Khalsa. Eleni has completed the educational component leading to qualifications as a Western Herbalist. She is presently working on the accreditation process for the American Herbalist Guild.
Eleni passionately believes food is medicine and is looking forward to sharing her passion at The Yoga Institute with a monthly Ayuveda Workshop.