March 7th & 8th, 2020: Leslie Kaminoff Workshop Sydney
Leslie Kaminoff Down Under 2020
Reimagining Alignment – Fundamental Practices and Foundational Principles
A 2-day Interactive Yoga Workshop that will inform, inspire and transform both your personal practice and teaching
T.K.V. Desikachar's teachings respect the individual nature of yoga practice, and his father, T. Krishnamacharya, emphasized the importance of breath integration along the central axis of the body.  Inspired by these sources, Leslie Kaminoff has developed an anatomically-inspired set of yoga principles. He uses these to guide teachers and practitioners as they embody their own, personal understanding of what works for them, both in personal practice and teaching. During these practice-heavy sessions, Leslie will model these principles by teaching a variety of sequences, techniques and inquiries.
Dates: Saturday 7th & Sunday 8th March, 2020
Venue: Mosman Art Gallery: Grand Hall, Sydney
Time: 9:00am – 4:30 pm
---
Saturday: 
Doors will be open from  8:30 am to settle into your space and be ready for 9:00 start.
Session times: 9:00am-12:00pm & 1:30-4:30pm
Re-imagining Alignment
This highly interactive workshop relies on students to bring questions about their own asana practice and teaching language. Leslie will promote an experimental, experiential atmosphere of inquiry regarding the teaching of alignment, safety and effective cueing of asana.
The session begins with an historical and anatomical perspective on the subject and functional definition of alignment. Then, an exploration of the uniqueness of human structure will lead to the understanding that "asanas don't have alignment – people have alignment."
Starting with clear, simple principles that govern musculoskeletal function, Leslie will help you put your asana on a solid foundation literally from the ground up (and from your head down). Topics include: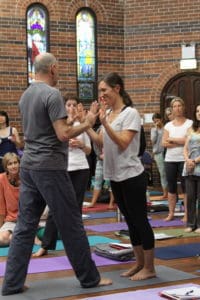 The fundamental importance of proprioception and interoception

Functional principles of alignment

Breath-centered, anatomically-based cueing

The relationship of bandha to support and movement

Why instructions like "tuck your tail," "lengthen your spine," "square your hips" may be doing more harm than good, and what kind of language to use instead

The use of gazing (drishti) and imagery to foster increased neuromuscular integration
Sunday:
Morning session: 9:00am-12:00pm
Less Talking, More Doing – The Theory of Mostly Practice
This is a full-length practice session (2+ hours) with a minimum of lecture. Simple body and breath warmups will be followed by a session of seated breath/bandha practice.
A standing vinyasa series will flow into floor work, modified inversions, twists, backbends and forward bends, concluding with a full savasana, followed by quiet sitting.Brief introductory and concluding remarks will frame the session.
Afternoon session: 1:30-4:30pm
Shushumna Nadi in Theory and Practice – The Central Pillar of Krishnamacharya's Yoga
An organizing principle of Krishnamacharya's breath-centered approach to yoga theory and practice involves the opening of the central channel of the energetic body – the Shushumna Nadi. Leslie's uniq
uely anatomical and experiential perspective on this topic refers to this as "vertical axis integration." This session will explore this idea in a practice sequence that integrates asana, kriya, bandha, mudra, pranayama. The session will conclude with a dhyana on the imagery derived from Krishnamacharya's unique perspective on Prana/Apana, Kundalini and Agni
Dates: Saturday 7th & Sunday 8th March, 2020
Venue: Mosman Art Gallery: Grand Hall, 1 Art Gallery Way, Mosman (Sydney)
Time: 9:00am – 4:30 pm
PRICE for the Full Weekend Program: $649 regular price
Previous years have been a sell out event, book in early to avoid disappointment
* no pre-requisites or prior learning required *
---
Terms & Conditions:
Full payment for this event is required to secure your registration. Cancelations prior to the 17th February 2020 are eligible for a refund minus $250. Cancellations received after the 17th February are not eligible for a refund. You may transfer your registration to another person at no cost, however, please notify the program host in writing prior to commencement.
Event cancelation: The Yoga Institute Pty Ltd reserves the right to cancel any event, workshop or retreat due to extenuating circumstances. In the unlikely event that this occurs, a full refund of registration fees paid will be returned to the participant. However, no responsibility will be accepted for any consequential loss in any circumstances. Where applicable, adequate travel insurance is highly recommended.
Please email us in writing for cancellation notifications.
---
About the facilitator: Leslie Kaminoff 
Leslie Kaminoff is a yoga educator inspired by the tradition of T.K.V. Desikachar. He is recognized internationally as a specialist in the fields of yoga, breath anatomy and bodywork. For over four decades he has led workshops and developed specialized education for many leading yoga associations, schools and training programs in America and throughout the world. His approach to teaching combines intellectual rigor, spontaneity and humor, and is always evolving.
Leslie is the founder of The Breathing Project, a New York City based educational non-profit dedicated to advancing educational standards for yoga teachers and other movement professionals. His unique year-long course is available online at yogaanatomy.net.
He is the co-author, with Amy Matthews, of the best-selling book "Yoga Anatomy."
You can follow him on Instagram (@leslie.kaminoff), Twitter (@lkaminoff) and on Facebook (LeslieKaminoffYogaAnatomy), on YouTube (YogaAnatomy) and learn more at YogaAnatomy.org.
---
Bonus Material 
A Post-Iyengar Reimagining of Alignment in Asana
https://www.yogaanatomy.org/reimagining-alignment/
Negative Feedback Can Be Positive (except when it's just negative)
http://yogaanatomy.org/feedback-loop/
Son vs Father's Yoga Teachings
http://yogaanatomy.org/back_to_the_future/
A simple breathing question with a complex answer
http://yogaanatomy.org/a-simple-question-with-a-complex-answer/
Honesty in Yoga Credentialing
http://yogaanatomy.org/you-were-here/