Get to know your teacher: Len Gillespie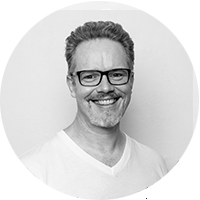 What is your name? 
Leonard Gillespie. You can call me Len if you like.
What brought you to Yoga?
Mainly an interest in the body beautiful and how I might develop it in as many ways as possible. Yoga practice was integral in my recovery from serious illness and learning to be kinder to myself.
How long have you been teaching for and where did you train?
I began teaching yoga privately in late 2014. Ive trained with quite a few teachers over the years starting with meditation as a teenager and formal Yoga teacher training most recently with the Yoga Institute (advanced Diploma) and Svastha Yoga and Ayurveda (Yoga Therapy). I'm a bit of a workshop junkie and am never disappointed to receive new information from a different angle.
What is your area of interest/speciality/plans for the future?
At this time, primarily, teaching courses to groups and Yoga Therapy to individuals.
Passions?
Almost anything physically or mentally challenging! I've tried and enjoyed lots of sports and hobbies – my favourites being reading, writing, astronomy, model making, ice skating and skiing (Snow). Yoga is an amazingly good fit for somebody like me as it combines the mind and the body – whats not to love?
Biggest challenges?
Creating and maintaining a Family! Being a husband, a father and seeing my daughter Emily through her studies. Changing many of my bad habits to get well after being very, very sick.
What would you like to share about yourself, that is unrelated to Yoga?
I love a good challenge and becoming as good as I can at varied pursuits. I have trained and worked as a graphic artist, a computer network administrator and consultant.
Where / when can we experience your teaching?
Currently I am teaching courses for WEA Sydney, Classes at BlueFit Lane Cove and Cammeray Yoga along with One to One private sessions through Atha Revolution, in the Sydney metro area.