Eleni Tsikrikas
Eleni Tsikrikas
Eleni discovered YOGA as a means for reducing stress in 1995 while practicing law in Sydney, Australia. Smitten, Eleni completed the Sydney Yoga Centre's teacher training course. In 2000, Eleni quit the legal profession to teach Yoga full time. In 2004 Eleni moved to Los Angeles and began intensive study with Robert Birnberg a senior student in the T. Krichnamacharya lineage. The major focus of her studies is the "Yoga Sutras of Pantajali" the guidebook dedicated to creating a satvic mind.
Eleni is a Clinical Ayurvedic Specialist, CAS, a Pancha Karma Specialist PKS. She runs a private ayurvedic practice and teaches "Ayurvedic Skills for Living" courses in Silverlake and Sydney. She is a faculty member of The Yoga Institute in Sydney and at California College of Ayurveda, where she teaches and mentors students. She continues to pursue her passion for herbs, studying with renowned herbalist KP Khalsa. Eleni has completed the educational component leading to qualifications as a Western Herbalist. She is presently working on the accreditation process for the American Herbalist Guild.
We are privileged to have an Ayurveda specialist of Eleni's calibre facilitating monthly Ayurveda Workshops and on the faculty of The Yoga Institute's Yoga Therapy Training Course. She brings a wealth of Ayurvedic and Yogic knowledge and her warm and engaging teaching style is always a hit with students.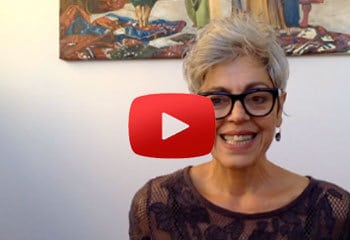 What do Eleni's students say?
"For most of my life, my relationship with food and fad diets was combative, at best. I thought the chronic stomach aches and overwhelming heaviness were just the bum cards I was dealt. And then came Eleni, with her arsenal of herbs and an infectious love of Ayurveda. She awakened me to the healing powers of food and herbs and taught me to make the tiny, yet necessary, seasonal adjustments to keep me constantly feeling light and full of energy. I still have the same cards, but now I'm playing a smarter game."  Sandy Comstock
 ___________
"I had been looking to make some lifestyle changes with regard to self-care. As a yoga teacher Ayurveda seemed the logical route so I began reading and researching on my own and it was not long before I was completely overwhelmed with information. Thankfully, I began a 300 hr. yoga teacher training where Eleni taught the Ayurveda portion. That teacher training module was so transformative, that when Eleni announced she was offering a 5-weekend course, I did not hesitate to sign up. Eleni doesn't merely teach the science of Ayurveda. Eleni empowers her students to discover the healer within by guiding them through experiencing first-hand, the life skills that make up the practice of Ayurveda. She takes a vast and ancient philosophy and makes it accessible and relevant for what is going on in the modern world today."  L. Deligio
 ___________
"Eleni is one of the most important mentors in my life. Her knowledge of Ayurveda is complete, but more than her knowledge, it is her investment to connect with and empower her students, that makes her an amazing teacher. She is a living example of the potentiality of a loving diet and lifestyle, and is truly an inspiration for all to look up to. Through attending her courses and working with her privately I have rediscovered my connection to the earth through plants as medicine, reflection and self care. My life has become a practice rooted in nature; I love my body and trust my intuition more and more every day. The physical ailments that I originally sought her expertise for were just the starting point for an amazing journey of self discovery. They now seem quite small (and non-existent) as I am encouraged and supported by her to embrace the possibilities and power of self healing. Meeting Eleni was the intervention that has completely changed my life, and it is my greatest wish that everyone could be so lucky to find a teacher of her gift." Brooke Eberle

 ___________